Welcome To Roman Guitars!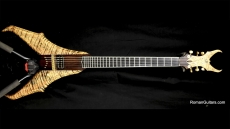 Follow us om Instagram!

Follow us on Facebook!

Follow us on Twitter!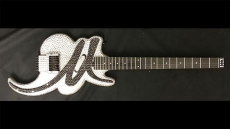 We are continually working on our new site and our new shop while making custom guitars and basses for our clients and for our in stock inventory. The new site focus is on what is in stock for guitars, basses, amplifiers, etc. The older site is also available to view with it's many years of galleries, articles and company history. We welcome you to contact us should you have any questions or if we can be of service.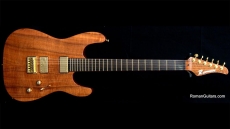 We appreciate you taking your time to look at the instruments we have to offer and the services we provide. From every day brands to unique quality custom instruments and just about everything in between. Our inventory and services include: retail sales of new, used and vintage instruments, our own lines of USA made custom instruments, unique custom builds, one of a kind specialty work, repairs and restorations.
Founded by the late Ed Roman in 1976, Roman Guitars has always offered and will strive to continue to offer a unique perspective and alternatives to what the guitar industry can offer as we move into the future.
As there was so much content on the original Ed Roman website it will remain live with all of the photos, articles, information and yes, even Ed's rants. The Historic site will no longer be updated, but it will remain on line. Should you find something on there that you would like to know more about, we welcome you to contact us. We are currently located at 3485 West Harmon Avenue Suite 110 in Las Vegas, Nevada 89103 and we can be reached by telephone at 702-597-0147 should you have any questions.
The new site will be much more streamlined for your convenience and updated at a more frequent interval. It will continue to evolve and we welcome any feedback you may have to offer. We hope you like the new design.
While the previous Ed Roman Guitars Guitar Company may be no more, the new Roman Guitars LLC will carry on in an effort to provide quality options and service for your guitar needs.
Thank You,
The Roman Guitars Staff
Roman Guitars is located at 3485 West Harmon Avenue, Suite 110, Las Vegas, Nevada 89103.
Our telephone number is 702-597-0147.
Our current hours of operation are 9am to 5pm PST Monday through Friday